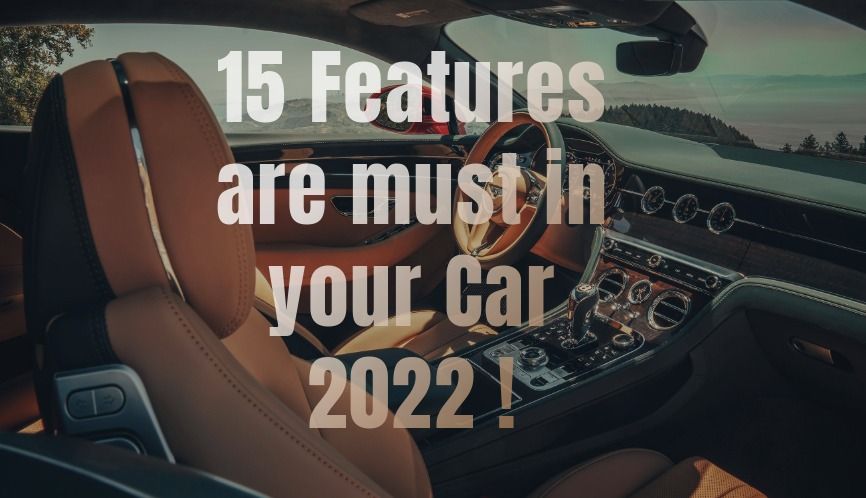 15 essential features that your Car must have in 2022
6 Airbags
Before buying your favorite car, keep in mind that will it be able to keep you safe in case of an accident. When buying a car, it is not enough to have airbags only on the front seats. There have to be airbags for the rear passengers too.
ABS/ EBD/ ESP
ABS (Anti-lock Braking System)
ABS does not allow the wheel to jam during panic braking, which reduces braking distance and also prevents accidents.
EBD (Electronic Brake Distribution)
The EBD helps, how much force all wheels should apply to stop safely. It distributes braking force to all the wheels according to their speed, load on each tire, and road condition.
ESP (Electronic stability program)
ESP does help in keeping the vehicle stable during panic braking, here in combination with ABS and TCS (Traction Control System), it keeps the vehicle stable during panic braking.
Isofix child seat mounts
Isofix child seat mounts are mandatory for children ages under 12 years, which saves child passengers in case of collision.
Seatbelt pre-tensioner
The seat belt in your car is pre-tightened, which saves you from hitting your head in front and lesser the forward motion during an accident.
Speed-sensing door locks
Speed-sensing door locks help you to avoid opening the door in a moving vehicle.
Front & Rear parking sensors with camera
In today's time, it is very important to have a Front & Rear parking sensor and a camera which greatly increases comfort and also prevents collision.
Auto-dimming rearview mirrors
Many people do not use manually adjustable IRVM (Inside Rear View Mirror) at night time, which creates a lot of risks. That's why Auto Dimming IRVM helps you to drive safely.
Tilt & Telescopic adjustable steering wheel
To travel well and comfortably you need the best driving posture according to your liking. Tilt & Telescopic adjustable steering wheel helps you to do that.
Premium sound systems
Can't enjoy Journey with your friends and family if your car has a poor-quality of sound system. That's why you should prefer such cars in which you get a good sound system from the company itself.
Digital instrument cluster
Digital instrument clusters are mandatory in today's world, it's easy to watch the speed and other information while driving. Nowadays Analog instrument clusters are a bit dated.
Wi-Fi/ Bluetooth/ NFC
Wi-Fi connects to the infotainment system present in your car by which you can use Navigation, play videos on the go, etc…
Connects from your car which helps you to enjoy the Music you want, Answer or decline calls, and sync your phone to view media, etc…which not makes the drive enjoyable but safe also.
Helps you to operate your vehicle when the key is not present (Car sharing), and also gives you an environment of personalizing your car…
Fast charger and wireless charging pad
In our fast growing life, we need our smartphones to charge faster not only at home and outside the home also so we need a fast charger in our car. And almost every phone nowadays supports Wireless charging so a wireless charger also has to be present in our car.
Wireless smartphone connectivity
Wireless smartphone connectivity provides you information on your smartphone through the environment created by the car brand. It eases you to leave your car and easily know what exactly is happening to your car.
Steering mounted controls
Steering-mounted controls eliminate the trouble of checking your smartphone. You can answer/decline calls while driving, can change music, and operate various modes in your car.
Rear a/c vents
A/c vents only in front aren't enough for the rear passengers so the rear a/c vents have to be mandatory, especially in summers.
LED headlamps
It gives you better visibility than the normal Halogens at night and looks premium too.